A 5 star award winning story
Winner of an IndieB.R.A.G Medallion, a Chill with a Book readers' award
and a gold standard.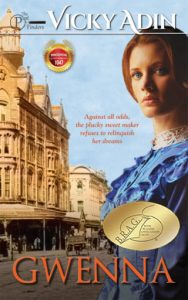 Against all odds, the plucky sweet-maker  refuses to relinquish her dreams.
Utter brilliance I was captivated from beginning to end. Vicky really brings the characters to life and you can really engage with what it must of been like to be a young girl like Gwenna going into business at the turn of the century in a male dominated society. I was totally engaged with every character each one contributing to make this a truly wonderful story, my only disappointment was when it ended. This is the first book I have read by this author but it won't be my last.  5-stars Amazon reviewer
Amid the bustling vibrancy of Auckland's Karangahape Road, Gwenna Price is determined to bring her Pa's dream to life – and she would, if it wasn't for her domineering stepbrother, Elias. Instead of opening a shop to sell their hand-made sweets, it would only be a matter of time before the whole business collapsed with him in charge. She had to stop him.
Throughout the twists and turns of love and tragedy, Gwenna is a young woman with uncommon courage in an era when women were expected to stay at home. But Gwenna is irrepressible. Nothing will stand in her way. Blind to anything that distracts her from creating her legacy, Gwenna risks losing the one thing that matters to her the most.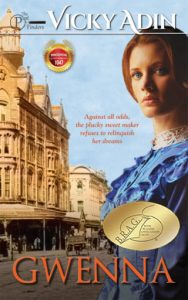 Awarded a Gold Quality Mark from BooksGoSocial
This is a wonderfully well written, constructed, and edited book. The story moves along at a good pace and the reader is pulled into the world and time in the first chapter.

Gwenna is a delightful book. I totally like the strong women characters in this book. Gwenna is a character that is so well developed in the book. You know all the ins and outs of her… her struggles, her triumphs and everything in between.
Gwenna's family fills the book with great people, some good, some not so good… but it also shows how people can change… just like real life. My only complaint about the book is I want more…. a sequel would be much appreciated. I want to know more about Charlie, more about Gwenna and Hugh and more about Gwenna's family! – IndieBRAG reader
Recent reviews:
Comments from Chill's Readers
This book was such a good read. I will definitely recommend. I will also read other books by this author.
I very much enjoyed it, light reading but engaging, the characters especially were very believable.
A lovely story.
An easy read and the author managed to make the characters believable.
——–
We ought to be proud to have a talented published Author of historical fiction, Vicky Adin, residing and writing her stories here in Browns Bay. Hot off the press is the latest book in "The Past Finders" series, cleverly constructed by a writer with sincere passion for her characters and their lives.
The story of Gwenna, the confectioner, introduces readers to a skilled craftsperson trade from a bygone era and allows us to easily imagine the industry and everyday life of Gwenna and her family In the years around 1900  the developing City of Auckland was a more personal world, survival depended on actual skills and trades for many folk–carters and haulage contractors, carpenters, woodturners–and the founding of fledgling businesses of importance such as Turners Auction House.
Historical places and facts give credibility and importance to the framework of everyday lives, a recorded social history  sadly lacking in modern times. I was delighted to read about the introduction of Universal Penny Postage throughout the British Empire, in January 1901. As a lifelong stamp collector, that discovery was special for me.
This story is a pleasure to read and enjoy; it puts us in touch with our precious past. Suitable for young adult readers also.
Patricia Langford
East Coast Bays Library Bookchat Group reviewer
September 2017

 Early reviews:
Vicky Adin takes us on a delightful journey through a Victorian New Zealand. Our companion is Gwenna, the confectioner; charming, irrepressible and utterly unforgettable. Adin is a master of her craft, her detail accurate and her historical knowledge sound. A must read for those who love historical fiction – Jenny Harrison, author of Out of Poland
Vicky Adin's ability to research relevant historical events and weave them into the story of Gwenna's everyday life does not disappoint. Her writing style captivates and engages me. Gwenna is a young woman from Wales, curious about life, adventurous, and controlled by male family members and the expectations of society. Yet, Gwenna's story is never without hope as the author crafts events and characters in a totally believable way to bring Gwenna to ultimate confidence in her future.
A wonderful addition to Vicky Adin's list of great historical novels
An absorbing read, this fast-paced novel once again demonstrates Vicky Adin's trade mark flair for telling great historical stories.
Save
Save
Save
SaveSave