For those of you just catching up with my travels for 2018, we have left our Southern Hemisphere winter behind and are currently cruising in the middle of the Indian Ocean. If you've been following me on social media, you will know my OH and I love to travel – both in our caravan around New Zealand and overseas. This year is no exception, so I'd like to share some of our experiences as we head around the world.
Part of our travel experiences also include catching up with friends and family, which is what our two stops in Australia were about. During our stay in Sydney, Vivid – the spectacular light and music show – was on. I highly recommend you try and go to it one year.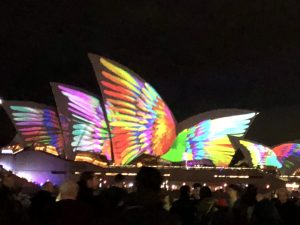 Back onboard ship, we soon began to enjoy the warmth and sunshine of tropical Australia as we headed towards Indonesia and the lesser known Komodo Island.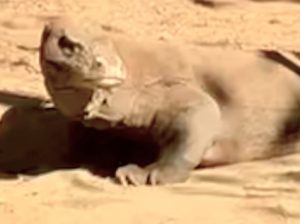 A few years ago, my fellow author Bev Robitai wrote about the famous dragons in her novel Sunstrike –The Journey Home. I couldn't put the book down until I'd finished that section – and now I know why! The Komodo Dragons are mean looking beasts at the best of times and when you learn about how fast they can travel despite their bulk, and how venomous and aggressive they are, you can perfectly picture a screen where man battles beast and wanting to know the outcome. Fortunately, they only eat about twelve times a year but hunger isn't always what drives them.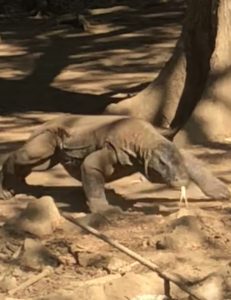 Our guides were wonderful. They were locals who lived in the only village on the island well away from the National Park entrance. They walk or travel by boat everywhere and are bright, cheerful and lithe people who spoke English well.
There were dozens of them with forked sticks to make sure the dragons never came near to any of the eager watchers.
***
Life on a cruise ship is taken up with a string of endless activities. There are quizzes and games, lectures and movies, live music and spectacular shows all day long. You can learn to play cards, ballroom dance, zumba or line dance, or do arts and crafts or join in the sporting events. You can pound the deck around and around the Promenade deck, go to the gym or walk up and down stairs to make sure you keep fit. And sometimes you can just sit and relax, enjoying your book. The choice is all yours and sometimes you have to make a choice because you can't do everything.
Sometimes you have no choice… and being a Pollywog ( a first time crossing of the Equator) can get you into loads of trouble. Beware the verdict of Neptune and his court or you'll find yourself having to kiss the fish as well as getting covered in whatever messy and slimy substance they can come up with (mostly food).
But once you are Shellbacks, you are safe from Neptune – or are you?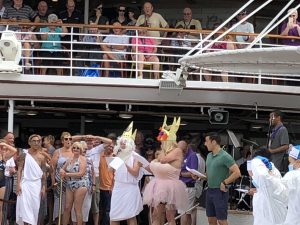 Who has a story of turning from a Pollywog into a Shellback to share?
***
Our day in Singapore was overcast, but it didn't help lower the 30+ degree temperature or the humidity. We explored the magnificent Gardens by the Bay and the 'supertree' grove where gigantic tower frames are covered with plants, which will in time cover from the from to foot.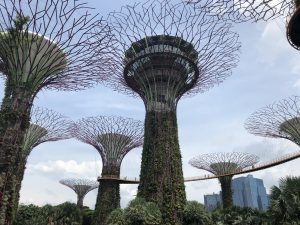 We then headed to the cooler air of the Marina Sands Hotel and cocktails on the 57th floor with magnificent views in all directions.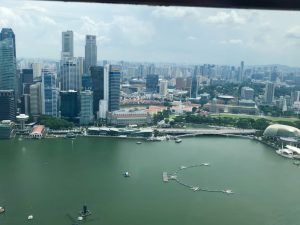 It was one area of Singapore we hadn't done on previous trips. And we still haven't seen the 'supertrees' lit up at night. Looks like we'll be back again.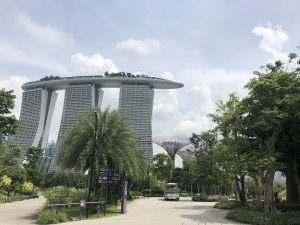 On Thursday, we are gettingoff the ship and doing an overland tour of India before rejoining the ship in Oman. I'll tell you all about that experience when we get back.
Do you have any special travel destinations or memories to share? I'd be delighted to hear from you.