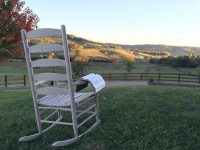 Autumn is treating us to some lovely sunny weather, but the nights are closing in earlier and earlier and it won't be long before we'll need a rug to cuddle up with.
Books are the best antidote for winter blues before they even arrive. Books can take you to magical places, teach you new things, involve you in adventures and mysterious, and relieve stress. What more could you ask for?
I don't often recommend books because I'm a bit of a softie, and I don't know whether you like the same genre, historical period, style or story line as me. I will like some books by an author and not others; I will enjoy one book about an era and not another, but there are some generalities I'm happy to share.
How much do you know about the War of the Roses? Have you young adult readers in your family who need to know about the War of the Roses, then I'd suggest you take a look at this book by Dan Moorhouse. He's a whizz at school history and making the complex sound simple.
He interviewed me about The Costumier's Gift and the way that history is interpreted and presented to readers. Since social history (especially the time when New Zealand was a young country and developing a character of its own) is my passion, the interview was a perfect fit. I love writing and talking about and reading historical fiction.
Watch this space – another interview about 'Portrait of a Man' is coming soon.

Another author I really enjoy is Linda Gillard. Her stories are often about flawed and troubled characters, frequently set in Scotland in castles and on islands, she doesn't belong to any one genre but her writing is excellent.
I'm sure most of my readers have read books by Fiona Valpy; my recent favourite is dual-timeline story, The Skylark's Secret. While we are talking of dual-timeline stories Kathleen McGurl is a master of this genre and releases a new book every few months. The Lost Sister is her new one due out next month.
Don't forget about our own list of New Zealand indie authors showcased on Reshwity Publishing. You can search by genre or author name to find what you are looking for.
And lastly, visit the FlaxFlower website for reviews about New Zealand books in many genres. It's worth a look.