But he who dares not grasp the thorns should never crave the rose – Anne Brontë
Emma wants to forget, Charlotte never can. Together they remember.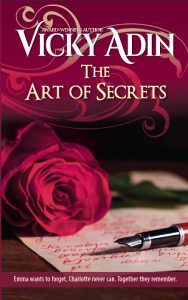 Emma is an enterprising young journalist with a bright future, but her life and career are falling apart. In a last-ditch attempt to save her position, she accepts the assignment to interview the best-selling author – Charlotte Day.
The ageing Charlotte has a reputation for being cantankerous and is highly secretive about her past, one she considers too painful to relive and too shameful to share. Preferring her roses to people, she is persuaded into meeting this girl who gets through her defences, forcing her to confront her past.
As Charlotte and Emma's relationship deepens, they find themselves enmeshed in a tangle of secrets that changes both their lives.
 A compassionate look at love, loss and renewal
Set in New Zealand
New Zealand readers: To request a personally autographed print book, please contact me.
Print books are also available from Chooice New Zealand website
Print copies are also available from Writer's Plot Reader's Read bookstore,
893 Fergusson Drive, Upper Hutt.  Phone: 04 528 4549
Goodreads reviews The Art of Secrets

Save
Save
Save
Save