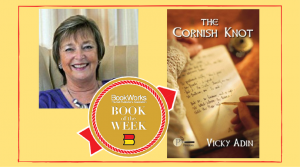 Set in New Zealand, Cornwall and Italy
The Cornish Knot is the engaging story of Megan, a widow who mysteriously receives her great-grandmother's journal written a hundred years earlier. She embarks on a journey to trace her family tree, uncovering secrets and finds herself immersed in the world of art. Set in Cornwall, Florence and New Zealand.
'A motif for the circle of life'
Megan was at her lowest ebb on the anniversary of her husband's death when a mysterious parcel arrived. Intrigued by the exquisite journal written in the early years of the 20th century by an unknown hand, she travels to Cornwall in search of its history.
Shocked by what she learns, Megan continues her journey to Paris and then Florence in search of her family history. She becomes entangled with the world of art and exposes secrets that change her life. Along the way, she finds new family, forges new friendships but will she ever find love again?


BUY NOW from Amazon.
New Zealand readers: To request a personally autographed print book, please contact me.
Print copies are also available from Writer's Plot Reader's Read bookstore,
893 Fergusson Drive, Upper Hutt.  Phone: 04 528 4549
Save
Save
Save
Save