If you've been following me on any of the social media platforms, you will know that my OH and I are travelling around New Zealand. Today, I'm sitting in our caravan watching the heavy rain stream down the windows and enjoying the opportunity to catch up on my 'To Do' list.
It's been more of a history tour than I expected. First, there was the Art Deco celebrations at Napier in February. For the last thirty years, Napier has held a Festival to celebrate its renewal after the 1931 earthquake flattened the town, but not the spirits of the residents. We had a fabulous time and intend to return next year with friends, correct 'in-theme' attire for both day and night and a few antique pieces suitable for 'high-tea' on the Parade for The Gatsby Picnic.
Moving on from Napier, we headed into the coastal area of Central Hawkes Bay to discover some original homesteads: Gwavas, Oruawharo, Chapelwick and Wallingford. Touring these homesteads, seeing what life used to be like and adding to my knowledge and experience of living history was a fantastic opportunity for a writer.
I'll never be a country sheep station farmer, but my goodness, I fell in love with these houses. There is a grace and elegance about well-built grand houses of the past that is unmatched in my opinion. Too much cleaning of course, and I would only want to be the 'lady' of the manor rather than the maid, such as my characters from my stories would have been. The task to keep these houses alive is huge, and I have a great deal of respect for the owners who are prepared to maintain and retain these grand homes for our pleasure.
These houses – dating back to the mid to late 1800s ­– have been added to or altered at some stage in their life or had suffered fires and needed rebuilding even up to the 1920s. You can see the different styles reflected in parts of the building. All four of them offered various forms of hospitality as places to stay, to enjoy high-tea and wander the gardens or as wedding and function venues. Two had their own chapels dating back to the same era as the houses, all had a charm of their own. It would be a pleasure to stay at any of them and get spoilt in old-fashioned style. My photos can't do them justice, so please clink on the links and see for yourself.
My award for the most comprehensive and bravest restoration belongs to Oruawharo. The current owners rescued the abandoned building in 2000 within days of it being demolished and lost forever. They had to cut back the wisteria growing inside to climb the beautiful hand-made staircase. Today, while there is still work to be done and I think there will always be work to do, the house is a grand, two storey-homestead with a ballroom (you should see the wooden ceiling – it is amazing), dining rooms, and lounges big enough for the largest of families – and the original homesteaders all had large families. We had a delightful high-tea on the patio listening to our host tell us its story.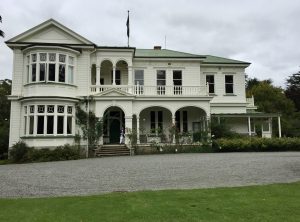 Gwavas is another two-storey home restored to near original condition and has a large woodland garden for getting lost in.
Charming Chapelwick is on the coast and has both a rural and sea view. Still two-storey but smaller than the others, it has been altered to suit its role as a wedding venue and lodge accommodation, but many of the original features remain. The gardens are lovely too.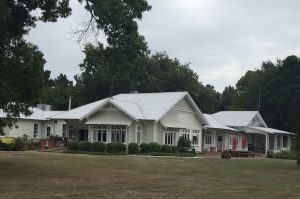 My favourite, however, is Wallingford – the largest single storey wooden homestead in the country or it could even be the largest in the South Pacific – was originally built in 1853, with 1920s modifications. ­It has several wings and many bedrooms, and the large living spaces, filled with furniture, light fittings and knick-knacks reminiscent of the original, are welcoming.
I could have made myself very comfortable there, but we must keep moving to discover what else there is to see and what other stories there are to write.